As people all over the world are still hunkering down for the foreseeable future, there's even more time for deep-diving into the more obscure areas of pop culture.  Whether you regard that as a good thing or not, I leave to you, dear reader.
Crime novelist Elmore Leonard has a mixed record in terms of adaptations of his prolific output. Successes include the sublime FX series Justified (2010-15), Epix's Get Shorty (2017-) and the 1995 movie of same name, Jackie Brown (1997) and Out of Sight (1998).
But oh boy, when Leonard's source material is in hands of a non-simpatico director, they can really cock it up. Witness the two attempts at The Big Bounce (1969/2004), lame Get Shorty sequel Be Cool (2005), Freaky Deaky (2013) and far too many others.
Freaky Deaky TRAILER 1 (2013) - Christian Slater, Crispin Glover Movie HD
Which brings us to 1997's cable TV movie Gold Coast, based on Leonard's novel of the same name and to my mind something of a hidden gem.
Directed by the great Peter (Robocop/Naked Lunch) Weller, who himself starred in the so-so Abel Ferrara take on EL's Cat Chaser (1989), Gold Coast boasts the usual wry dialogue and twists and turns of the author's oeuvre.
Cat Chaser Trailer 1989 (Entertainment in video EV)
Pre-C.S.I stars David Caruso and Marg Helgenberger take the respective leads as a laconic antique-appreciating drifter and a lonely rich mafia widow, who suffers from unusually cruel clause in her late husband's will.
A stand out is Jeff Kober (Walking Dead/Sons of Anarchy) as bad guy Roland Crowe, a thoroughly nasty stetson-sporting creep.
Luckily, the entire movie is available to watch free of charge on youtube (picture quality improves very quickly) – so take a look at  Gold Coast and tell us what you think:
FUN FACT I: Justified's Raylan Givens was first played onscreen by James Le Gros in 1997's TV movie Pronto:
No offence meant, but let's face it, Le Gros is no Timothy Olyphant, is he?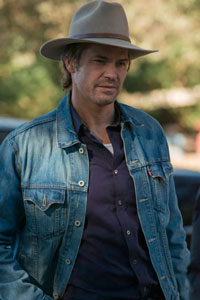 FUN FACT II: The character of  Karen Sisco, who played by Jennifer Lopez in 1998's very fine Out of Sight was also essayed by the wonderful Carla Gugino in ABC's short-lived (but critically praised) TV series from 2003:
I scheduled Karen Sisco when I was channel controller of the UK's ITV3. Pearls before swine time (yet) again, as few viewers tuned in to watch the show. More fool them.
ITV3 ident - Karen Sissco
FUN FACT III: By now somewhat predictably, Gugino had a brief appearance in Justified as US Marshall Karen Sisco; oops I meant Karen Goodall
Justified: The Complete Third Season - Wrong Room Scene