The news about 'Romulus' may have passed a few people by, as the news was announced way back in February, which might as well by 753BC (the supposed date of the founding of Rome). I guess it's good to have a gimmick, but  whether using proto-pre-classical Latin will draw the punters in is doubtful.
From Deadline:
The ITV-owned producer is producing the ten-part series, which was created by Matteo Rovere, who directed The First King feature. It marks Rovere's television debut. The ten-part series is co-produced by Rovere's Groenlandia and filming started in Rome last month.
It stars Andrea Arcangeli (Trust), Marianna Fontana (Indivisible) and Francesco Di Napoli (Piranhas) with Rovere directing alongside Michele Alhaique and Enrico Maria Artale. It is written by Rovere, Filippo Gravino (The First King) and Guido Iuculano (A Quiet Life).
The series is set in eighth century B.C., in a primitive and brutal world in which man's fate is decided by the merciless power of nature and the gods. It is the story of Romulus and his twin brother Remus, as seen through the eyes of three people marked by death, loneliness and3 violence: Iemos, Wiros and the young vestal Ilia.
Rounding out the cast are Giovanni Buselli (My Brilliant Friend), Silvia Calderoni (Bloody Richard), Sergio Romano (Il Campione), Demetra Avincola (Lucky), Massimiliano Rossi (The First King), Ivana Lotito (Gomorrah), Gabriel Montesi (Made in Italy) and Vanessa Scalera (Lea).
A reference point is apparently is Mel Gibson's Mayan/Yucatán language chase movie Apocalypto (2007), which rattled along very nicely, even for the subtitle-averse.
Apocalypto - Official® Trailer [HD]
Presumably an attempt to appeal to those with GoT withdrawal symptoms (although season 8 pretty much did the trick for many viewers), but it's unlikely whether Romulus will inspire the same kind of devotion, but we shall see.
We're fortunate to be able to get an idea of what the show may look like, as director and series creator Matteo Rovere also helmed what we must assume is a prequel to the show – 2019's Romulus & Remus: The First King:
THE FIRST KING – ROMULUS & REMUS Trailer (Deutsch)
If I remember my classical history correctly, Romulus killed his brother Remus for leaping over and mocking the crappy low walls his sibling was building around what was to become the Palatine Hill in Rome. Bit extreme, if you ask me.
The show's launch couldn't have had timing as fortuitously, what may be yer actual Tomb of Romulus has just been discovered in the ancient Roman Forum: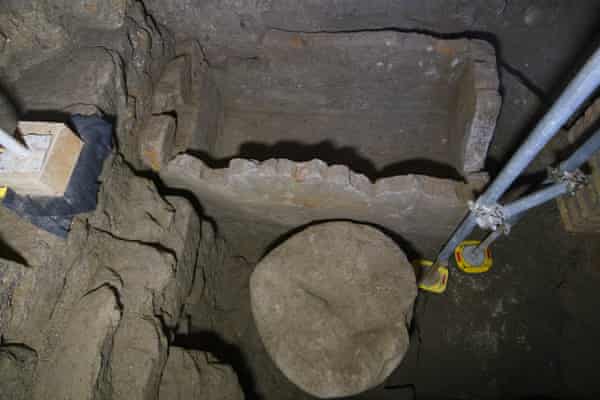 A magnificent sequence from Fellini's Roma (1972):
Fellini's Roma (1972) - Frescoes
Apparently Hepburn didn't know that Peck was going to pull that stunt:
"Roman Holiday" (1953) scene The Mouth of Truth
The B-52's - Roam (Official Music Video)