E-Comix has announced that its cover models for the 2019 Pussycats mini-series will appear at this year's Baltimore Comic Con September 28-30 at The Baltimore Convention Center. Located at booth #2314, the Pussycats cover models will be appearing intermittently throughout the 3-day event to greet fans, sign merchandise, and pose for pictures with Con attendees.
Playboy Playmate Erin Nicole will cosplay at the booth Friday, September 28, to kick off an exclusive announcement that launches a new character in the Pussycats universe. Playboy Playmate Kristy Ann will reprise her role as the cover model for Powerhouse Pam, and will be at the booth on Saturday, September 29 cosplaying and signing the Baltimore Comic Con Exclusive Photo Cover Edition of the Pussycats: Impossible Sex On Drugs Is Everything TP that's limited to 300 copies. Makeup Artist Jen Seidel — aka "Jen The Body Painter" and author of Covered — will also be on hand at the E-Comix booth on Saturday, September 29 (starting at 2pm) to sign books and pose for pictures as the new Nurse Nancy. Sunday, September 30, makeup artist Tori Duke and model Sarah Shellhorn will cosplay as the new Cowgirl Cathy and Schoolgirl Suzie respectively, and will also be on hand to pose for photos and sign merchandise.
Visitors to the E-Comix booth will also be offered the opportunity to pose for photos with the models for future editorial content that will appear in the 2019 Pussycats mini-series.
Creator/writer Vince Brusio commented, "Although performance coach Robin Miller can't attend the Con as our new Mother Superior because of a scheduling conflict, we'll have a photo of her on hand at the booth so fans can see the new leader of the group. Robin and the other ladies are going to knock it out of the park in 2019. Check out our Baltimore Comic Con exclusives, and you'll see what I mean."
The new Pussycats series for 2019 will be solicited in a future issue of the PREVIEWS comic shop catalog, which can be purchased at your local comic shop, or downloaded digitally at previewsworld.com. Visit www.comicshoplocator.com to find a local comic shop retailer near you.
Baltimore Comic Con will be held at the Baltimore Convention Center from September 28-30th, and tickets are available at the door. Visit baltimorecomiccon.com for more information, and to order tickets online.
Playboy Playmate Kristy Ann as Powerhouse Pam Sept. 29.
Playboy Playmate Erin Nicole appears Sept. 28.
Photo by 

Josh Triggs- 3MI Photography

.
Author Jen "The Body Painter" Seidel as Nurse Nancy Sept. 29.
Makeup Artist Tori Duke as Cowgirl Cathy Sept. 30.
Model Sarah Shellhorn as Schoolgirl Suzie Sept. 30. Photo by Sean Dackermann.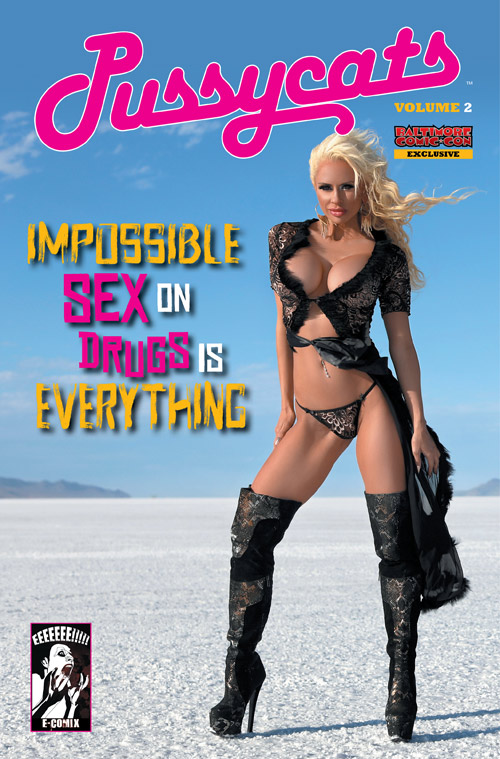 Baltimore Comic Con Exclusive Cover of Pussycats Volume 2 TP.