Maybe now that yesterday happened, we'll see less of this…
Blerd & Boujee is coming to #DCFanDome 💥 Here's a taste of what to expect based on last year's party: https://t.co/Oszz528pHU pic.twitter.com/S6CFbKQMm3

— DC (@DCComics) August 3, 2020
Yahoo's entertainment section reports DC's staff, who were organizing an online convention with a segment dedicated to "blerd" culture, which is a combination of "black" and "nerd", screwed up by taking the meaning beyond what it's meant for:
On Twitter, DC announced that the FanDome would also feature another edition of Blerd & Boujee — an event they debuted at last year's in-person Comic-Con in San Diego that celebrated Black comic book culture. But the announcement was greeted with a resounding lack of enthusiasm when fans followed a link featured in DC's post that recapped the 2019 Blerd & Boujee boat party.

That post has since been deleted from DC's official site, but screen grabs reveal what started the ruckus. In the article, the word "Blerd" was defined as referring to "diverse fans of color from Black, Latinx and Asian communities who are into gaming, tech, anime, comics, movies and TV." As many on Twitter were quick to note, though, the term was initially coined by Black nerds for Black nerds. Specifically, it was referenced by Scrubs star and real-life Blerd Donald Faison on a 2006 episode of the long-running sitcom that's often credited with popularizing the term. In recent years, events like the Washington, D.C.-based BlerdCon have placed an emphasis on celebrating Black nerds, while also being inclusive of people of color and minority groups.
It all demonstrates how out of touch DC are with pop culture, but honestly, when it comes to their outfit, nobody's missing anything, given how disastrous their story quality became over nearly 2 decades.
Maybe we're going to see less of this now that blood has been shed. This from AceOfSpades:
It's a "bloodbath" at the WarnerMedia-owned DC Comics, with the Editor in Chief, the Publisher, and one third of the editorial staff sacked.
Included in the sackings is — this is a rumor as of yet, not confirmed — leftwing SJW ideologue Andy Khouri, one of the absolute cancers killing the industry, who brought in GamerGate skel Zoe Quinn to "write" "comics" for DC, despite her having no comic book experience and no writing experience (outside Depression Quest and a failed Kickstarter). Khouri filled DC's Vertigo imprint with angry yet untalented SJW freaks; Vertigo was cancelled within a year.
DC had already laid off people last year, and now has to cut even more. Co-publisher Dan DiDio was fired last year, leaving the other co-publisher, Jim Lee, supposedly in charge; now Jim Lee has been pushed out of that position, though he'll probably be kept in some other role. (He's a major comic book artist.)
Why did this happen to DC Comics?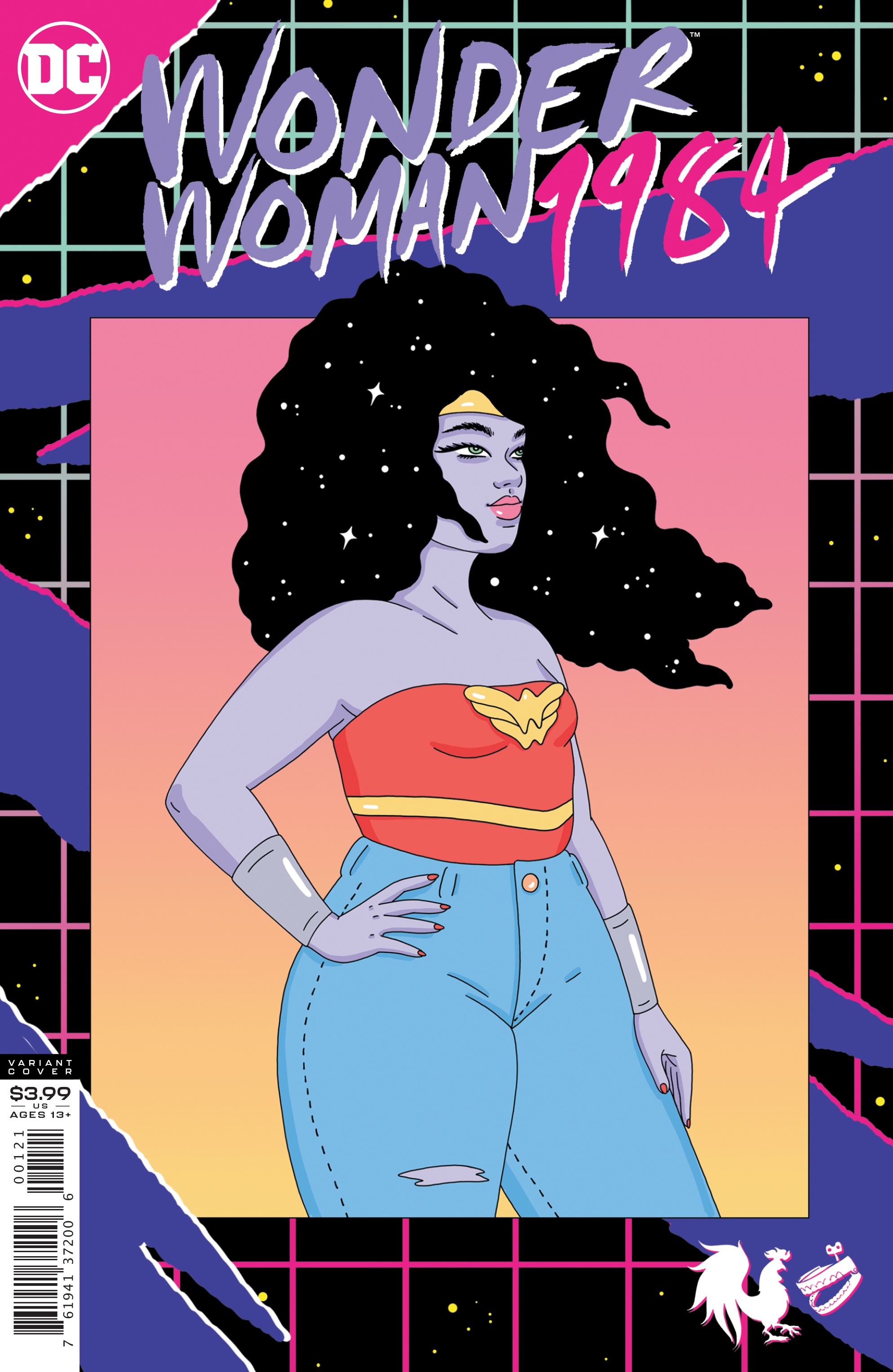 That's a variant cover of the upcoming comic book version of the Wonder Woman 1984 movie, for an animation company called Rooster Teeth — which itself is a WarnerMedia property. That cover may not have caused the "bloodbath" of cuts at DC, but this kind of aggressively alienating #Woke bullshit — which has been going on for years and years — has put DC on the chopping block.
Not only did DC Comics — which itself has chased Marvel for a gold medal in the #Woke Olympics — accept this variant cover, they actually celebrated it and promoted it through their DC Nation twitter account:
Only one word for the Wonder Woman 1984 #1 @RoosterTeeth variant cover by Robin Eisenberg: rad. Out September 29. pic.twitter.com/HySpmlWKUd

— DC Nation (@thedcnation) August 7, 2020
Rooster Teeth is itself a Time Warner, now Warner Media property, and is itself expected to be severely downsized — was this cover an insult/fuck you to WarnerMedia as Rooster Teeth gets ready to be "consolidated" with another division and almost entirely scrapped?
They were just hit with big layoffs this past September, which they're probably still pissy about.
And Rooster Teeth just took a super-#Woke turn itself, announcing they were deleting all "problematic" content and would be hiring SJW diversity advisors to help them make better censorship decisions in the future:
Hi everyone,
Today, as part of the broader representation and inclusion goals of our company, we are reviewing our content library and removing some videos we no longer feel comfortable hosting on our platforms. We took an honest look at 17+ years of videos, many of them made live and uploaded on a daily basis, and concluded some do not fit the values of Rooster Teeth today and are counterproductive to the work we are striving to do to be more inclusive of all people. We aspire to entertain our existing community while fostering connections with a diverse audience. Any content that doesn't do that doesn't belong on our platform. This review is ongoing; over time we will also edit videos, provide disclaimers where appropriate, and continue to remove content if we so choose.
In June we stated #BlackLivesMatter and said we were working on a plan to ensure a more diverse, inclusive and equitable Rooster Teeth. We want to be transparent about what we've accomplished and what we're still working on. Laney Ingram, our Head of Legal & Business Affairs, has expanded her responsibilities to include Diversity, Equity & Inclusion (DEI). She is partnering with Senior HR leader Stephanie O'Connor, who comes to us from Fullscreen. We have also hired an outside DEI consultant, Ingrid Hadley. Together, Laney, Stephanie and Ingrid are laying the groundwork for our DEI strategy and initiatives going forward. We are also working closely with WarnerMedia on all of our DEI strategies and are thankful for their support and the opportunities they open up in this area.
This is an ongoing process and this is by no means our last update on the topic of diversity, equity and inclusion. Actions speak louder than words and we hope you see our actions clearly now and in the future. Don't hesitate to hold us accountable and offer your feedback.
Thank you.
So yeah, I can see this as a real #PowerBottom move by butthurt SJWs who know that they'll soon be forced to Learn to Code. And why did DC accept and then promote this cover? Maybe for the same reason.
Robin, I'm a dc editor and I love your work. The reaction to the WW cover on Twitter was provoked by a small group of trolls and is not representative of the larger, sophisticated and enthusiastic readership I've come to know. Your art is inspiring and your response is wonderful.

— Andy Khouri (@andykhouri) August 9, 2020
The cover is interesting because while Wonder Woman is clearly fat, she has no breasts, really. That's now standard SJW artistic practice — men like boobs so women must not be drawn with them, to defeat the "male gaze." Even if the woman is very fat and could be expected to have big boobs.
But the artist herself usually draws curvy women who do have breasts. #Cancelling Wonder Woman's breasts seems to have been a Special Customer Request by either Rooster Teeth or DC Comics.
Here is a Google search for the artist's (Robin Eisenberg's) work — but content warning. A lot of it involves fairly graphic lesbian sex and dildos and masturbation.  And (alien) lesbian orgies.
All sorts of content warning there.
Read the whole thing.