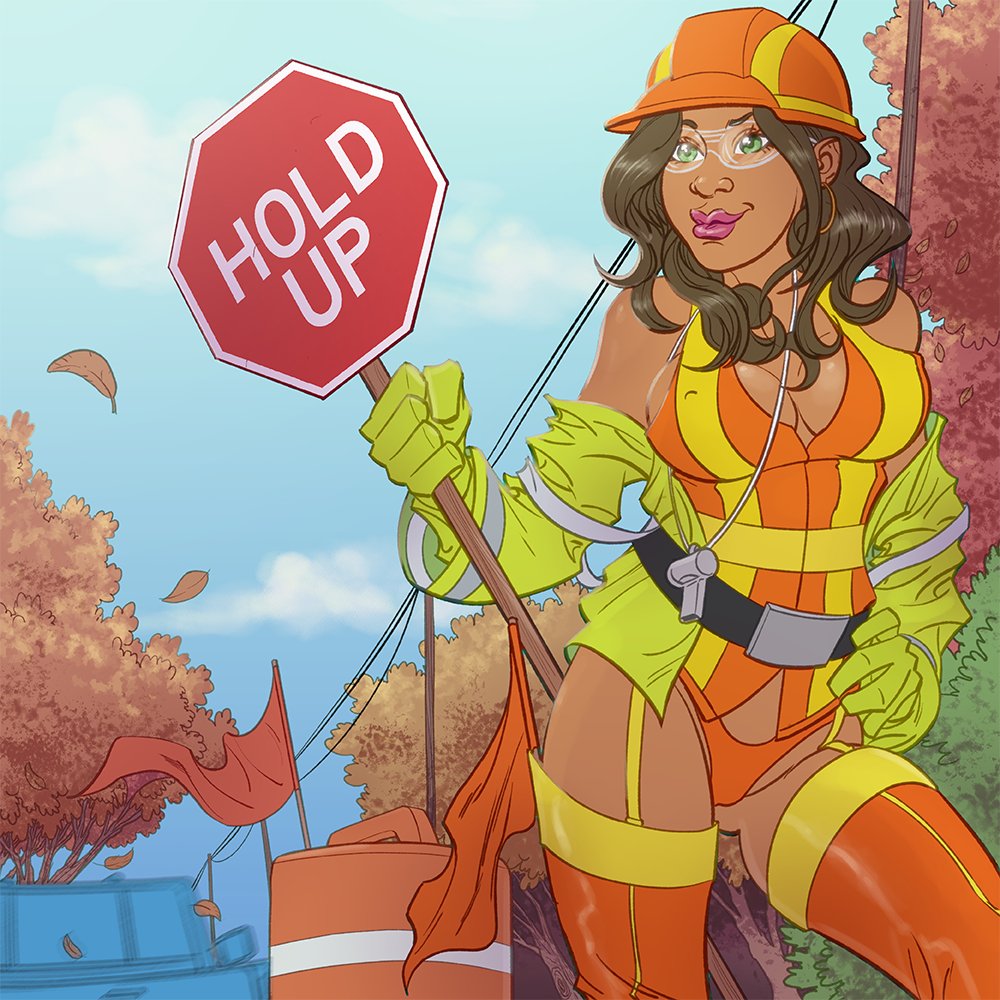 I hope that got your attention.
My name is BadAnkleBill, and first and foremost I'm an artist. That's not a description I use lightly; Artist. It's one that I've avoided for a long time in favor of cartoonist, illustrator, maker of pretty pictures, etc. I'm also an old-school Anarcho-Punk Pirate, which I illustrated a little over a year ago by giving away 250 pages of comics and art, including a digital proof of Double Jumpers which I had no legal right to distribute. I'm also a gonzo journalist at times, covering the ComicsGate movement through the lens of Jungian Psychology. But again, first and foremost I'm a working artist. Accent on "working."
Anyone who does anything creative for pay knows how harrowing it can sometimes be. The slings and arrows of misfortune can erode away at us creatives very quickly. Many of my breed are perhaps only a month away from complete social collapse. And given the temperament of the creative type, a lot of us don't always have people we can call on for help. I'm truly blessed that I'm not currently in this position at this time. However, near the beginning of 2019, I was homeless and for a brief time in jail. I'm currently back on my feet and supporting myself fully with my art. I'm lucky to do so, as rough as this lifestyle can be and I also made this transition with very little help. In light of all this, I've been confronted with a lot to be grateful for in my life as of late.
But like I said, not all of us are so lucky.
Currently, another contributor to this website has hit some very hard times. Not merely financially, but in seemingly damn-near every aspect of his life. And this Bleeding Fool contributor has become a good friend of mine over the last few months. I've had many a long discussion with him about the similar trials and tribulations that we've both suffered. However, he's also the kind of hard-headed asshole who is too proud to ask for help. I can't really blame him, since I'm similarly afflicted.
Fortunately for me, pictures speak louder than words, and via pretty pictures I've been lucky enough to get myself to a place where I do have the free time and goodwill in reserves when I need them. They're a luxury to be sure and I don't squander or call on them often, certainly not for myself.
To get right to the point, some recent financial hardships have put this guy short on his rent. And unlike me, he doesn't have a landlord who is understanding and accepting of his situation. He's only beginning to get back on his feet and in that capacity he has very little leverage on his side. As many of you know, the world doesn't provide as much compassion to the downtrodden as we'd hope when they need it the most. So beyond just the capacity to buy him time, I'd like to help him a little beyond that to give him some wiggle room financially, but first and foremost, protecting his basic overhead is my primary goal. Please take my word for it that this goes well beyond his basic shelter needs. This is a man I plan to work with on projects this year and a friend who I'd really like to see thrive. And given my own reasons for gratitude, I feel as though it's something I owe the universe. I'm worth nothing if I cannot share the hope I've been provided lately, and we all know that hope is a finite and easily exhaustible resource in these times.
I have not watched this man fall apart over his own situation, but I have seen him shed tears over the situations of others, some of whom did not survive their misfortunes. I've seen his fortitude taxed in ways that make me question whether I would have the capacity to cope with such circumstances. I've seen the raw humanity of this man laid bare many times, but I've also seen the light begin to come back to his eyes when good fortune had visited us both. Even in his current station, he's said to me "I'll be alright though, Will. You know that if it ever appears I've committed suicide you should get very suspicious, right?"
But someone's ability to withstand suffering shouldn't be a reason to not help.
I'm not asking for handouts, I'm not asking for charity, and I'm sure as hell not gonna set up a GoFundMe.
I would like to help my friend. And what I'm asking for is the work to do so. As of right now, the absolute minimum I need to raise is a mere $100 to alleviate the most pressing of his concerns. If we can do more than that, I'll take a few commission spots on so as to maybe buy more than time, but a little hope. I think in this audience there has to be at least a few people who've been blessed recently as I have and may want to share that, but we all would like something for our hard-earned dollars.
So if you're looking to get some art done by a professional in any capacity, I ask you to take a look at my gallery of work here and give me some consideration. Only if you like what you see, and only to help my friend and compatriot on this burdensome cycle of Samsara. As a rule, in any commission over $100 I've at least thrown in a page of original production art from the aforementioned Double Jumpers presented on two 8.5 x 11 pieces of bristol board and signed. I'm also willing to, for a limited time, take on head sketches for as low as $20 +shipping if it means my friend can sleep with one less weight on his mind tonight. I pride myself on my quality of work and ability to deliver and satisfy my clients' needs. You have that assurance.
I can't take on too much, though, and this situation is time-sensitive, so if you are interested I would recommend you to get ahold of me as quickly as possible.
While my fortunes may be pleasant lately, they're not so abundant that I'm able to do more than take on a little extra work to assist my friend in his time of need. Trust me, if I could do this completely privately and just make the money magically appear in his account I would. But I still believe that magick is possible through people, and that sometimes asking for assistance from others is necessary, even if we rarely do it for our own needs.
To reach me and begin the process, you can do so via my Twitter, Instagram, Facebook, or email me at SupremeFictator@BadAnkleBill.com, MadcapComics@gmail.com, or via my Contact page. Those social media links also contain a lot my artwork samples, but again you can find a full portfolio HERE.
If you made it this far, thank you for reading this, and I hope you enjoyed the eye-candy as well.
As always, Much Love and Infinite Mojo to you, and Super-Profundo on the early eve of your day!
Sincerely, but never Seriously,
BadAnkleBill
Supreme Fictator. Grammar Communist. Universe experiencing itself subjectively. Cartoonist. Artist.