by Avi Green
|
The showbiz dominoes keep falling. Here's some news about at least three more "Hollywood-ers" who've worked on comics-related projects. First, as if it weren't bad enough the Supergirl TV series is already becoming flooded with politics, it turns out one of their producers has his own share of offenses – just like Harvey Weinstein and Kevin Spacey:
Warner Bros. has opened an investigation into Andrew Kreisberg, the executive producer of some of the studio's biggest DC Comics series after fifteen women and four men accused him of sexual misconduct.

"We have recently been made aware of allegations of misconduct against Andrew Kreisberg. We have suspended Mr. Kreisberg and are conducting an internal investigation," Warners said in a statement late Friday. "We take all allegations of misconduct extremely seriously, and are committed to creating a safe working environment for our employees and everyone involved in our productions."

Kreisberg's work includes series including Arrow, Supergirl, The Flash and DC's Legends of Tomorrow. […]

Anonymous sources who spoke to Variety said Kreisberg would regularly touch people without permission, inappropriately kissed women, and asked for massages from female employees. They also claimed he would habitually make comments about people's appearance and sexual desirability, adding that the Supergirl producer made the workplace feel "unsafe" and that he "scared people."


Andrew Kreisberg in happier times…
The article also mentions that DC Comics writer and editor Eddie Berganza was suspended on Friday following the Buzzfeed report. In my opinion, this is not good enough. They should fire him altogether, and it's time for Dan DiDio and Bob Harras to get the heave-ho to boot. After all, they were some of the leading executives who covered for him years ago.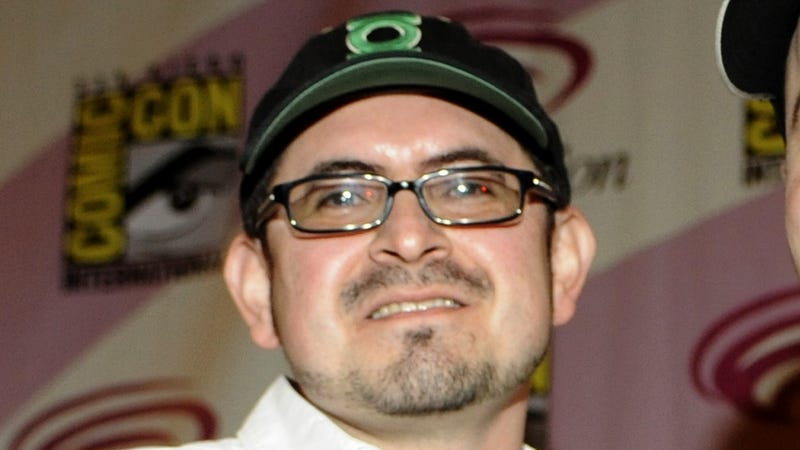 In more news on the same subjects, Bryan Singer, the original and X-Men movie director, and also accused of sexual abuse, has come up in discussions again. This time 
it's reported that a student petition at USC has been presented
asking for Singer's name to be removed from the study departments:
Sexual misconduct allegations against A-list Hollywood director Bryan Singer have resurfaced in the wake of the Harvey Weinstein fallout. On Monday, a petition was launched calling for calling for the removal of Singer's name from the school's Division of Cinema and Media Studies.

The petition, says the X-Men director's name being tied to the USC School of Cinematic Arts "gives the impression that we, both as an institution and as members of the entertainment industry, value his financial contributions over the safety, respect and future of students. It sets a precedent of lenience for sexual criminals and further undermines the visibility and respect that victims of harassment and assault deserve."

The USC School of Cinematic Arts said it's taking the petition "very seriously."

"We are aware of the Change.org petition and appreciate the concerns of our students and alumni," the school said, according to Variety. "We want to assure them that we are taking this matter very seriously and are monitoring the situation."
If I recall correctly, when Singer was directing the first X-Men movie, he wouldn't allow any real comic books on the film sets proper. Doesn't sound much like a true comics fan, and his offensive sexual conduct behind the scenes only makes it all the more worse.
Another director who also worked on at least one of the X-Men films, and served as a producer on the Wonder Woman movie, Brett Ratner, has now been exposed as a baddie as well:
Hollywood's widening sexual harassment crisis has ensnared a prominent film director after six women — including actress Olivia Munn — accused Brett Ratner of sexual misconduct in a Los Angeles Times report on Wednesday.

Playboy Enterprises quickly distanced itself from Ratner as his attorney denied the allegations and late Wednesday Warner Bros. severed ties with the director, whose expired first-look deal with the studio will not be renewed, according to a person with knowledge of the decision who spoke on condition of anonymity because they were not authorized to discuss the matter publicly. […]

Munn also complained about on-set behavior, alleging that while visiting the production of Ratner's "After the Sunset" in 2004, he masturbated in front of her in his trailer. Munn described the incident, without naming Ratner, in a 2010 collection of essays.
After this news, Wonder Woman star Gal Gadot balked at starring in a sequel unless Brett Ratner is distanced from the project.
I feel this is why neither the Supergirl TV series nor the Singer helmed X-Men films are going to age well. The former is already swamped with on-the-nose politics, and at this point, one could figure politics and sexual harassment go hand-in-glove after reading these scandalous reports.
Originally posted at the Four Color Media Monitor
Follow @avigreen1 on Twitter